That's right. Adobe Edge is now Adobe Edge Animate to more correctly reflect what it can be used for. But it is more than just that. It is a powerful, intuitive tool for creating stunning animated and interactive content using HTML5, CSS3 and JavaScript.  It's great because content made with Edge Animate runs gracefully on mobile devices and desktops, expanding your reach on the modern web.
Just download Adobe Edge Animate preview 7 and from there I encourage you to watch the quick video series I've just created to get you up and running fast.
You can even download the same assets used in the video.
What's New in Preview 7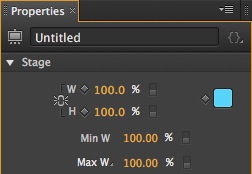 Position based on left, top, bottom and right
Responsive layout presets
Stage Resizable Preview - When stage dimensions are set to %, handles on the ruler allow you to preview how your design responds to size changes.
Symbol Resize Mode - You can now specify whether a symbol should scale or resize when instances are resized.
Mouseenter, Mouseleave and Focus  - New mouse and focus events allow enhanced control over interactivity and accessibility.
Ellipse tool
Warnings Display - Warnings and errors are displayed in the timecode bar underneath the stage on the right. Click on the icon to get more details of the error or warning.
Code Panel Errors - The code panel will display information on errors in your code.
Rulers and Guides
Shadows - Apply and animate text and box shadows for richer effects. 
Adjustable Timeline Grid - Gain greater animation precision by adjusting the time granularity where the playhead snaps.
Enhanced Text - Create multi-line text and control leading, indentation, and spacing with added text properties.