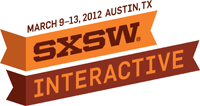 This year I get to not only attend SXSW Interactive but I get to present! We will have a full day Adobe Camp and I'm looking forward to presenting on some hot new things we're working on concerning HTML5 and CSS3 as well as show off what's hot in the industry now and in the future. I have two sessions. The Future of HTML5 Motion Design as well as Understanding the Future of Web and Apps.  Complete schedule is below:
HTML5 and CSS3 are hot, driven by an explosion of new, Internet connected devices.  While they offer many new features that should allow you to do the types of things that you previously did in Flash, actually making it happen is really hard.  Until now. Adobe Evangelist Paul Trani will give you a first-hand look at Adobe Edge, which is designed to save you time while creating beautiful motion and interactive content for the web.
Paul will also give you an exclusive first look at new features for Edge – don't miss out on this rare opportunity to learn about Edge from the source!
We are announcing something completely new – Adobe will be unveiling a new product for web designers and developers to help with their mobile web workflows.  Come to the see the live demo and check it out for yourself!  
Responsive web design is changing the definition of a "page," as it aims to address the growing variety of device form factors and locations where content is consumed.  Additionally, as the web evolves, rules and limitations must be better understood in order to create truly unique content. This session will focus on design philosophy and development techniques to create and adapt your content for maximum impact, regardless of where and how it is consumed. Topics will include:
Proper elements for the proper content
Design for context
Adapt your UI and adapt your content
Design with ratios vs. design with pixels
Know the limitations
Designing with limitations
Let the limitations set you free
Part of being a great web designer is understanding the medium you are designing for, recognizing its weaknesses and pushing its strengths. Understanding this balance as we are thrust into the world of mobile and "progressive enhancement" will go a long way in making you a success.
In this session, Adobe Evangelist Paul Trani will demystify the technology alphabet soup of CSS, HTML5, jQuery Mobile, PhoneGap, TypeKit and Sencha Touch so you can boldly execute on your next project (or at least sound really smart in meetings).
Learn how Adobe's Business Catalyst unified platform and Dreamweaver CS5.5 can propel you to build everything from powerful online stores to beautiful brochure-ware sites to lead generation mini-sites without back-end coding. Through this session, you'll learn how to:
Create a fully featured web site in minutes
Manage an intuitive, flexible content management
Integrate social Media  "in a click"
Add database-driven content without the need for coding
Build and customize web forms for capturing customer leads
Generate reports on site performance and customer activity
Mixer (6-8pm) (It wouldn't be SXSW without a party!)